Published on December 21, 2021
–
Updated on December 21, 2021
ERRMECe - Research Team on Extracellular Matrix-Cell Relationships

Authority

CY Cergy Paris Université

Reference

EA 1391

Research center type

Host team
Organization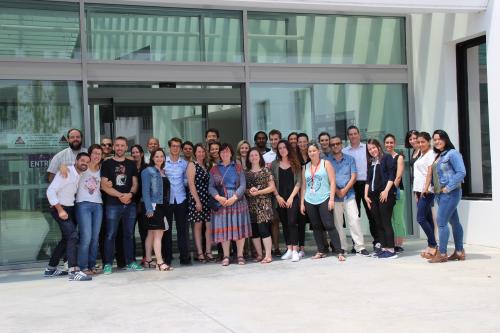 Group photo of the ERRMECe research team -
ERRMECe
Recognised by the French Ministry of Higher Education and Research, ERRMECe is a host team comprising 21 permanent staff: 17 research lecturers, 4 BIATSS and 16 post docs and PhD students. It also forms part of the Materials Institute of CY Cergy Paris Université, after participating in its creation in 2008.
Activities
Research topics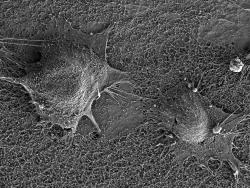 Group photo of the ERRMECe research team –ERRMECe. The ERRMECe unit studies the interrelationships established between cells and their different environments (natural: extracellular matrix, biofilms, microenvironment, materials, etc., or artificial: surfaces, synthetic materials, biomaterials etc.). The approaches are addressed from molecular, supramolecular and cellular angles. ERRMECe brings together biochemists, cellular biologists, physiologists, microbiologists and physico-chemists and merges these different skills at both fundamental and applied level in the study of cellular environment/cell interactions in pathology, the development of innovative materials and biomaterials, industrial processes or heritage preservation.
Engineering of (Bio)materials and molecular interactions

to strengthen the 3 complementary programmes with technological opportunities: Biomaterials based on coatings and thin films at interfaces, hybrid organic/inorganic and/or connected medical devices, fluid hydrogel-type biomaterials that are optimised for delivery

Biology of extracellular matrices and cellular microenvironments

Identification of the physiopathological functions of matrices: Characterisation and impact of matrix proteins of physiopathological media on tumour dissemination and implantation or cellular senescence

Extracellular matrix engineering

with the objective of designing and using matrices of the following types: Biomimetic adhesive matrices, forensic matrices, dynamic and electro-stimulable matrices

Infectious diseases and the fight against biofilm

Setting up and developing in vitro, ex vivo and in vivo models to study the interactions between bacterial pathogens and cutaneous and intestinal microbiota
– Strategy to identify the first elements introduced during the formation of bacterial biofilms and the implantation and development of pathogens.

Biodeterioration of materials

Identifying and understanding the interactions between microorganisms and between microorganisms and materials, and the bacterial and fungal biodiversity in biodeterioration through the examples of wood or construction materials (historical examples such as wood, or innovative such as phase change materials).
Field of applications
Extracellular matrix-cell relationships
Equipments
Imaging

Our team has a photon microscopy platform opening the field to different techniques in eukaryotic and prokaryotic cell imaging and materials. It comprises a number of different microscopes so as to provide a wide technical range. This is supplemented by the offer (CLSM, AFM and SEM) of the imaging platform of the I-Mat Materials Institute, of which our laboratory is a partner.

Purification of matrix proteins

ERRMECe implements and develops purification protocols in low pressure chromatography for the preparation of the various proteins studied in the laboratory. The various strategies implemented enable us to meet demanding specifications: high purity, systematic biophysical yield and characterisation.

Spectroscopy

ERRMECe is equipped with various spectroscopy techniques dedicated to molecular characterisation and the study of the structural dynamics of proteins: UV-Visible spectroscopy, FTIR and FTIR-ATR infrared spectrometry, Polarimetry

Eukaryotic/prokaryotic cell culture

ERRMECe has 3 containment level 2 laboratories dedicated to the culture of eukaryotic or prokaryotic cells.
We have 2 L2s for eukaryotic approaches, one of which is specifically reserved for manipulation on biomaterials and nanoparticles. These laboratories are equipped with all the apparatus to carry out and monitor cell cultures (PSM, centrifuges, ovens, etc.).A level 2 laboratory is allocated to microbiology with 2 PSMs, 3 ovens and all the equipment needed to produce the various bacterial cultures used in our various research subjects.

Microcalorimetry

Isothermal titration microcalorimetry allows the study of the interaction that occurs between two molecules, in a solution and at constant temperature. When two molecules bind together, heat is either generated or absorbed. The ITC microcalorimeter tracks the heat of the reaction and directly determines the stoichiometry (n), the equilibrium constant (Ka), and the enthalpy (ΔH) and entropy (ΔS) changes of the associated reaction.

Rheology

Our laboratory is equipped with 2 Rheometers enabling the characterisation of the viscoelastic properties of protein gels, biofilms, interpenetrating protein/synthetic polymer networks, etc.
Contact information
Address :
CY Cergy Paris Université Maison Internationale de la Recherche 1 rue Descartes
95000 Neuville sur Oise
Phone :
+33(0)1 34 25 66 04
Fax :
+33(0)1 34 25 66 94
On the Internet :